Elisabet Janzon
Elisabet Janzon, audzētava Wolf Tone, Zviedrija
Atvainojiet, šai lapai nav tulkojuma latviešu valodā.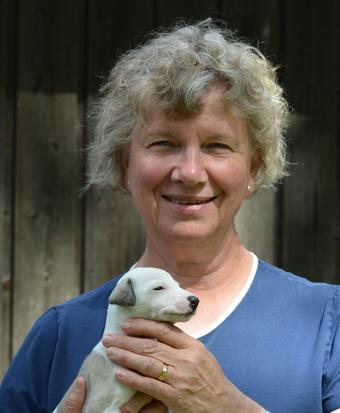 I have been in Sighthounds since 1971 when my husband and I bought our first Irish Wolfhound. We started our breeding with dogs from the Eaglescrag fame, and the first litter was born 1975.
Scottish Deerhounds came into our lives 1973. with mainly Ardkinglas bloodlines. Our first Deerhound litter was born 1976.
Since 1993 whippet is our main breed.
Our first whippet was the lovely, ladylike Signum Soprani (Ch Airescot Fandango x Ch Merci Isle Whisper To A Purr). Her first litter, by Ch Bohem Flight Time, only one puppy and that was Ch Wolf Tone Viking, born 1997.
Viking came to be a very useful stud dog in many parts of the world and he still is.
Soprani was our foundations bitch and she is to be found in every pedigree of puppies bred by us.
These days we are very happy to have our beautiful Ch Sobresalto Rosina N´Wolf Tone. In her only litter she gave us eight puppies, AI sired by our late Viking. We kept the little princess Alice, the only bitch in the litter and also her brother Atlas. Our latest litter is out of Alice.
We do not breed often, only for our own purpose and aim to keep the lines. Today we have six whippet girls here at home as family members and life companions.
In 1996 I got my judging licence and I judge all Sight hound breeds. So far I have judged in about 25 countries.
I feel very honoured to be invited by the Latvian Sighthound and Coursing Club to judge Whippet at the Sighthound Specialty Show -
"Club Winner 22"
in August.
I´m looking forward to the show and the opportunity to meet you whippet fanciers and of course your dogs!