15.05.2022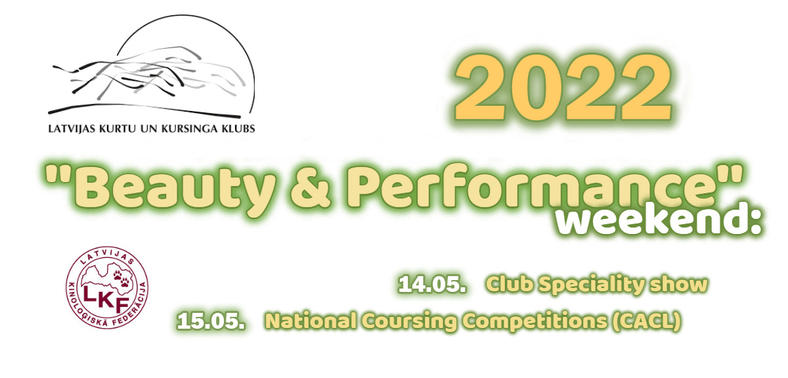 15.05.2022. Beauty & Performance - National Lure Coursing Competition (CACL)
FCI Group X, breeds from FCI Group V: Pharaoh & Ibizian Hound, Cirneco Dell'Etna.
Competition dogs will run for LV CACL, LV VCACL titles, best on the field winner prize.
«Beauty & Performance» titles
Place of event
«Jaunmārtiņi», Jaunmārupe, Marupes novads, LV-2166
The judges
Dzintra Staprēna
(Latvia),
Andrej Kerpan
(Slovenia)
The organizers have rights to change the judges if necessary.
Track
Field track:
natural field
Track length:
650-900 meters
Time schedule
Registration and veterinarian control will start at
9:00
.
Runs will start at
10:00
in the morning
(time might be changed).
Registered dogs:
Afghan Hound (2)
Pharaon Hound (3)
Greyhound (1)
Borzoi (4)
Italian Sighthound (2)
Saluki (4)
Whippet (16)
Registration
Registration will be closed on the 10.05.2022. - 23:59
You could also apply for a lure coursing licensing - By writing the application in a free form, indicating the dog - name, date of birth, sex, breed, owner. Attaching the LKKK / LKF membership card, as well as a payment order (making the payment to the account attached below) or a letter of guarantee written in a free form. Licensing fee for LKKK members is 17 EUR, for LKF members - 20 EUR. At lkkk-kursing@inbox.lv
Payment for competition
LKKK members, members of Lithuanian and Estonian Sighthound Clubs
(showing valid member's certificate for 2022) :
1st dog = 20 EUR
2nd dog = 18 EUR*
3rd dog = 18 EUR*
4th dog - for free (bezmaksas)*
5th-7th dog = 18 EUR*

Ne LKKK biedriem / Not LKKK members:
1st dog = 25 EUR
2nd dog = 23 EUR*
3rd dog = 23 EUR*
4th dog - for free (bezmaksas)*
5th - 7th dog = 23 EUR

* Discount is applied only for the one dog's owner.

Payment for competition need to be processed through LKKK bank account or, please, add a payment guarantee letter.

Account :
Latvijas kurtu un kursinga klubs,
Reg. No. 40008013338,
LV68HABA0551043033716,
BIC/SWIFT kods: HABALV22

Payment for competition will be refunded only in case of justified case of non-appearance validated by veterinarian (bitch oestrum or bitch/dog death case). Veterinarian's confirmed statement should be provided not later than three days after the competition day.
Basic rules
1. To fulfill the requirements of the organizers;

2. Ensure that only healthy dogs enter the competition. Be sure to check the dog's nail length before the competition. If necessary, lock the overhead fingers.

3. Ensure that the dog is fasted for 6 hours prior to the competition.

4. From the moment of getting out of the vehicle until the end of the race, dogs are only to be escorted. It is strictly forbidden to use "Flex" type leashes during the race!

5. The dog must be intensively guided for at least five minutes before running. After running (walking or jogging) - until breathing and heart activity return to normal.

6. When running dogs, non-running dogs should be kept on short leashes or kept in cages, vehicles (with windows open in the summer or with air conditioner on). The owner or guide must ensure that their dogs do not endanger themselves or the running dogs.

7. If a leash dog (collapsed, non-collapsed) interferes with a running run and injures runaway dogs - the owner or handler of the escaped dog must compensate the owner (s) of the injured dog (s) for any material damage suffered.

8. A runaway dog is disqualified according to Lure Coursing Rules.

9. Photographers (who wish to be on the track) must coordinate their location with the organizer or judges.

10. It is forbidden to fly drones over the course to avoid disturbing the dogs.

11. The muzzles for the dogs must be in a suitable size and must not be technically damaged. Dogs with unsuitable muzzles will not be allowed to start.
If you have any questions, please contact us at lkkk-kursing@inbox.lv
Our sponsors
Atbalsta no sirds augstākās kvalitātes barība no Itālijas " Forza 10".
"Forza 10":
● Ikdienas lietošanai
● Veselības traucējumu gadījumos.
Forza10 bieži vien ir alternatīva medicīnai, jo ir izstrādājusi īpašu līniju Active Line ar ārstniecības augu ekstraktiem dažādu veselībastraucējumu novēršanai vai mazināšanai. Ja jūsu mīlulim ir alerģija, barības nepanesība vai neskaidras izcelsmes ādas, ausu, gremošanastrakta u.c. saslimšanas, tad Forza10 patiešām spēs palīdzēt.
● Kad mīlulis ir alerģisks un ir izmēģinātas jau "visas" barības.
● Kad vēlaties sniegt mīlulim pašu labāko.